Meet Mrs. Christensen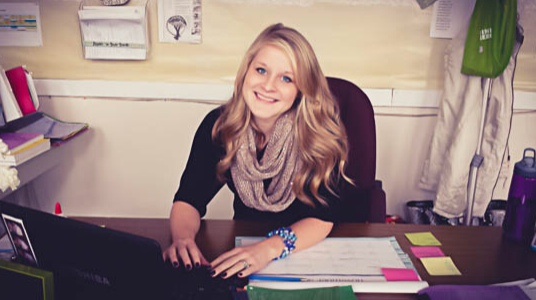 How long have you lived in the area?
I have lived in Yorkville since I was a baby. The last four years I left for Chicago to go to Moody Bible Institute, and now I live in Sandwich.
Why did you become a teacher?
I first recall wanting to become a teacher when I was in first grade. It's all I've ever really wanted to be. I can remember sitting in my miniature chair dreaming about how I would run my classroom if I was a teacher.
What do you love about teaching at Parkview?
I love the fact that I can bring God and His Word into everything that I do and teach. Whenever I feel overwhelmed, or whenever I can sense the kids are overwhelmed, we stop and pray. What a gift it is that we can do this! As a new teacher, I am so thankful for all of the love and support I have been given by my fellow teachers and staff members. They have made me feel like I can be who I am without having to cover up my weaknesses.
What's your favorite subject and why?
I am really enjoying teaching math. Learning the complexity and perfection of our number system reminds me of how Great and Detailed our God is. I also love those beautiful, though sometimes rare, "a-ha" moments–the tiny reminders that I am producing fruit for the Lord.
What's an impactful moment a teacher had on your life?
While it's not really a moment, the greatest memory that I have that has impacted me today is the atmosphere that my third grade teacher created for the class. Her classroom always felt like a safe place, and as students, we truly believed we were a family in her class. My desire is to create such a place for my own students.
What's an interesting fact or two about you? Perhaps a favorite book, hobby, or show?
I love to play and watch sports, and I am a White Sox fan.
Where do you attend church?
I attend Village Bible Church in Sugar Grove.
Parkview is the premier Christian School, Pre-K through 12th Grade, serving Kendall County and beyond. Are you interested in learning more? Then, please complete this simple form by clicking HERE and we'll be in touch within one business day.