State of the School
Did you miss the State of the School a few weeks back? No worries, please click here or the image to launch the presentation. Then, follow along with the below notes.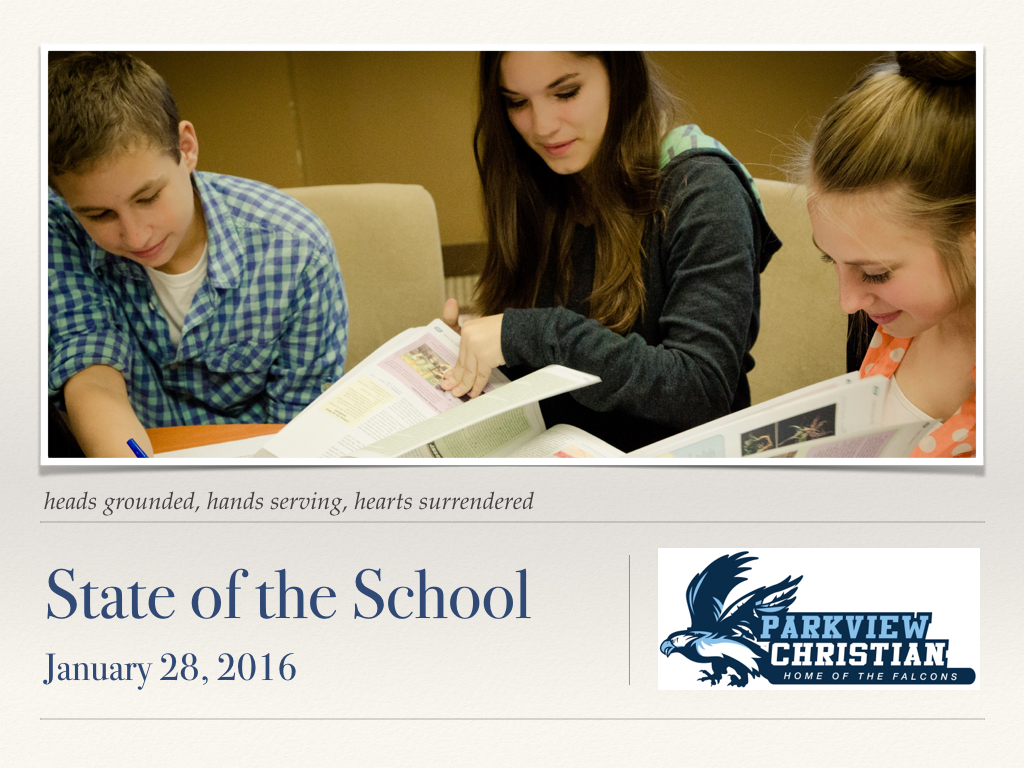 Slide 1: Opening slide.
Slide 2: Parkview's mission statement.
Slide 3: Parkview's commitments. These commitments are the why behind everything discussed.
Slide 4: Parkview's milestones. What an amazing history and bright future!
Slide 5: Parkview's growth over the past six years.
Slide 6: Parkview's growth over the past three years. 54%! This growth is unprecedented in comparison to national norms. In fact, several schools are following the incredible story unfolding at Parkview. We're grateful for the support and trust of the community.
Slide 7: Parkview is well on the way to 400 plus students. This population provides opportunities for enhanced academic and extracurricular offerings.
Slide 8: Parkview's website trends from August 2015 to January 2016, nearly 42,000 pageviews. Wow!
Slide 9: Parkview's strategic news.
– Accommodating growth with additional square footage at Club 47.
– Adding two board members.
– Celebrating a three year commitment from Ms. Benson, Parkview's Superintendent.
– Continuing strategic planning with the Center for the Advancement of Christian Education.
– Creating two sections of 1st and 2nd grade.
– Growing staff compensation.
– Hiring a Director of Curriculum and Instruction.
– Managing tuition increases.
– Splitting any remaining combined classes.
Slide 10: Emphasizing the importance of a three year commitment from Ms. Benson, hiring a Director of Curriculum and Instruction, and growing staff compensation. These three items are directly tied to the success of all students.
Slide 11: Growing staff compensation by an additional $252,000 next year. We're grateful for our staff and this increase demonstrates our commitment to them.
Slide 12: Pointing upwards, the continued growth of academic excellence, extracurricular offerings, facility support, and staff support.
Slide 13: Outlining managed tuition increases.
Slides 14 to 18: Pictures and questions.
If you have any questions, please contact the school office at (630) 553-5158. Thanks for your continued support and here's to an amazing future at Parkview Christian Academy!
Parkview is the premier Christian School, Pre-K through 12th Grade, serving Kendall County and beyond. Are you interested in learning more? Then, please complete this simple form by clicking HERE and we'll be in touch within one business day.