I love fall! To me, it is the most beautiful season of all. I love seeing the colorful arrangements of mums, pumpkins, gourds, corn stalks, and straw bales put out to celebrate the season and the harvest. As the leaves splendidly change colors, I get excited at the prospect of cooler temperatures, football games, apple cider, pumpkin doughnuts, and family gatherings! I'm sure to many, autumn represents work, long hours harvesting the crops that were planted in the spring. I remember many days of my childhood in the late summer and early fall spent helping harvest the produce of our garden and helping preserve them.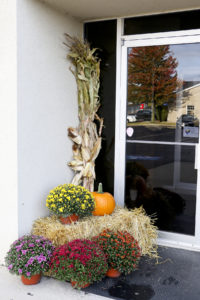 Each year as I drive by the fields of drying beans or corn, I can't help but think of God's faithfulness. It never ceases to amaze me that year after year, He provides just what those plants need to grow and produce. And I reflect on God's faithfulness to me. I offer a prayer of thanksgiving and praise to God. Often, I'll sing one of my favorite hymns, Great Is Thy Faithfulness. The second verse of that song speaks about God's faithfulness as the Creator. He created everything and continues to sustain it. Colossians 1:17 says, And he is before all things, and in him all things hold together. The first verse of that hymn describes the faithfulness of God's character. He is the same always. He never changes! His mercies to us never change! Isaiah said it like this in chapter 25, verse 1, O Lord, you are my God. I will exalt you, I will praise your name, for you have done wonderful things; your counsels of old are faithfulness and truth. In Numbers 23:19 Moses states, God is not human, that he should lie, not a human being that he should change his mind. Does he speak and then not act? Does he promise and not fulfill? Jeremiah declares in Lamentations 3:22-23, Because of the Lord's great love, we are not consumed for his mercies never fail. They are new every morning; great is your faithfulness. God has never failed me. Beginning with providing the way to reconciliation with Him and continuing each day of my life. He is faithful, providing what I need, just when I need it. He may not always provide in the way I think He should; but, I can say in all honesty that I have never wanted for anything that I needed. Just as the hymnist proclaims in the third verse, God provides the way of salvation, He provides guidance and strength for our daily life, and He provides an incredible hope for eternity.
During the times of trial or waiting on God for something, it is easy to begin to doubt Him and His faithfulness. I think that it becomes then about our focus – are we keeping our eyes on Him and His purposes or are we focusing on ourselves and our plans? Remember Peter, when he was walking on the water – everything was fine as he kept his eyes or focus on Jesus. It was only when he began to look at or focus on the wind and waves (his problems) that he began to sink. And yet, when he called out, Lord, save me. Jesus was there immediately, pulling him up and walking back to the boat with him. Jesus never left Peter. He was continually providing for Peter. It was Peter's focus that shifted. Likewise, God never leaves us, even in trials He is there providing for us exactly what we need. He never promised that we wouldn't face hardships. He did promise to never leave us nor forsake us (Hebrews 13:5). God is faithful! So, I encourage you, as you see fields being harvested this fall, enjoy some apple cider and a pumpkin doughnut, and take some time to reflect on God's faithfulness to you.
By Preschool Teacher, Jennifer Zeller