~ Written By: Erinn Borg, Senior ~
On Thursday, September 28, 2017, I conducted a short interview with the 5th to 6th grade girls' volleyball coach, Mrs. Creek. She let me in on a bit about her own background with the game, what she loves most about volleyball, and what she loves most about her team in particular.
Mrs. Creek played volleyball competitively from 5th grade through all four of her college years at Judson. It was this that got her into coaching the game, I'm super competitive and I missed just being around the game; I just love the game in general. She has now been coaching for Parkview's volleyball team for three years.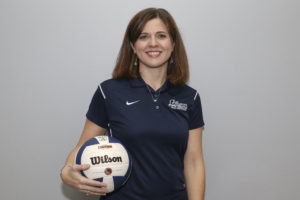 As a coach, Mrs. Creek said that her proudest moment is when she gets to watch one of her players do something that they didn't think they could, and watch their faces light up when they realize that they have succeeded at what they thought was impossible for themselves.
I asked Mrs. Creek what she loved most about this team and her response was, I love how encouraging they are; I really stressed that to them last year and they're just great at it. On multiple occasions I've had people from the other schools come up to me and tell me how awesome the girls were at encouraging one another. That's better than winning to me, and I love winning.
Though the team doesn't have a verse of the year, they do have a devotional before all of their practices. I asked Mrs. Creek what her favorite one of the year was and she recalled the verse from the first practice of the year, Colossians 3:23: Whatever you do, work at it with all your heart, as working for the Lord, not for human masters.
Mrs. Creek says that the biggest thing that she stresses to her girls is that the most important thing is to point to God, through everything that you do. They have had a few games at public schools and she has tried to emphasize the importance of showing the light of God through the way we act in all situations, especially among those who have no exposure to Christ.
Mrs. Creek is very excited with how her team is doing this season and is looking forward to seeing how the rest of the season goes as well as spending more time with her girls.