Last October, it became very clear that God was preparing my family for a change in ministry. As this became more evident over time, the knee jerk reaction was to apply to as many places as possible and take the first opportunity that awaited. Thankfully, there were many people God placed in my life that encourage patience, prayer, and a daily seeking of God's face. As time went on, it became very clear that God was opening the door for a new ministry at Parkview, and in early April, it became official. Please understand, I loved the place of ministry, the people, the staff, the students, and the community; but as God opened particular doors and called me to a new place, obedience was necessary.
For background, my wife and I were not unfamiliar to moving. We have lived in three states, moved across the country three times, etc. This move was particularly difficult because of the investment in the lives of the community. To stand in front of a fantastic school staff and tell them that we were leaving, and say goodbye to the people that lived life with us so intimately was hard, but to obey God was far more of a priority than our fear and comfort.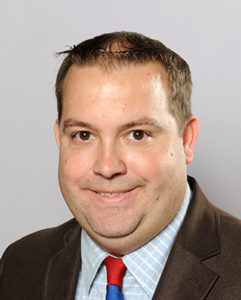 On August 1st, I hit the ground running at Parkview, and it has been a complete sprint since. Thankfully, God and His sovereignty have been my comfort and strength. To solely depend on His total strength and power was not comfortable, but it was necessary. As time went on, and meetings began, the realization of something simple, yet profound, became apparent. This wasn't just my New Beginnings. I had to pull myself out of the equation and insert God. It was His new beginnings for Parkview. The teachers, staff, students, parents, and community were getting a new beginning. As this became evident, God placed a set of scriptures in my heart: Lamentations 3:22-23 The steadfast love of the Lord never ceases; his mercies never come to an end; they are new every morning; great is your faithfulness. What truths are found here as we dwell on God's steadfast and unwavering love for us. It never stops, comes up short, or runs out. It renews daily! It was this passage that really brought a proper perspective to the change in our family.
Change had nothing to do with me or my family. It was God's design and desire for the ministry I was involved with to change. He brought me to Parkview specifically to show us His sovereignty, His Power, His Glory. My new responsibility is obedience through reflection of Christ in all aspects of my work at Parkview. God has truly blessed my family through the kind reception at Parkview, and I praise God continually for this opportunity to serve Him and look forward to serving in my new capacity.
In Christ, Craig Rapinchuk.