Say hi to Mrs. Christensen. She teaches 5th Grade at Parkview Christian Academy. We're blessed to have her on staff as she's a tremendous asset to our academic excellence and character development. Thanks for all you do Mrs. Christensen!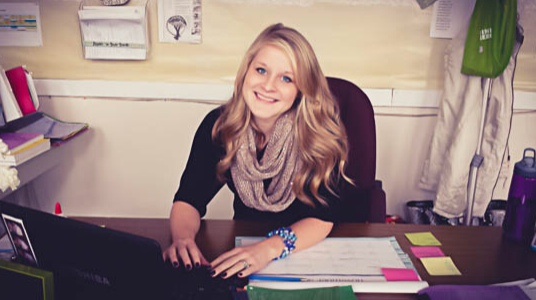 How long have you lived in the area?
I have lived in the Yorkville area my entire life.
Why did you become a teacher?
I vividly remember sitting in my miniature desk in grade school daydreaming about what my class would look like when I became a teacher. I have always wanted to be a teacher. I love working with children and I especially enjoy teaching them about the Lord and his magnificent creation.
What do you love about teaching at Parkview?
Most of all, I love the fact that I get to talk about Jesus every day with my students. I love that I can explain to them the correlation between knowledge and God's truth, because all truth is God's truth. I also love the fact that I can turn to God and his Word to guide my teaching throughout the day. Not only do I have these abilities at Parkview, but I also work alongside remarkable staff members who share my desire to serve Jesus on a daily basis and lead God's children to follow Christ.
What is an amazing life changing moment (of a student) from your teaching career? 
I had two students in my class who had a difficult time getting along; it was an ongoing battle between the two of them. We talked a lot in class about Paul's words to love your enemies. One day, when I allowed students to choose partners for an upcoming science experiment, the student who had difficulties with the other student actually chose that student to be his partner. In doing so, I saw that he was trying to follow Christ's example and love someone who may have been difficult for him to love.
What's your favorite subject and why?
My favorite subject to teach is Bible. I love enlightening little minds with God's Word. Teaching Bible first thing in the morning sets the class mood in a positive way. Rather than simply telling students to work hard, I can remind them that they are working for the Lord. I have found that no matter how many times you read a passage from the Bible, you can always gain new insight.
What do you enjoy doing in your free time?
In my free time I enjoy playing sports or working on DIY projects.
Where do you attend church?
I attend Village Bible Church in Sugar Grove.
What is your favorite sports team?
The Chicago White Sox of course.
What is your favorite restaurant?
Chili's.
Starbucks or Dunkin' Donuts?
Dunkin' Donuts.
Parkview Christian Academy offers high-quality, Christ-centered education to Pre-K through 12th Grade students. Parkview is in Yorkville and draws students from several surrounding communities. If you're interested in learning more, simply complete this form by clicking HERE, and we'll be in touch within one business day.